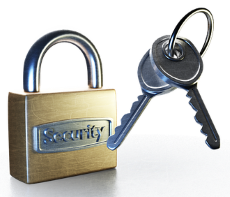 Security is one of the most important, yet most commonly overlooked aspects of configuration on business networks.
The Internet has made large amounts of information available to the average computer user at home, in business and in education. Additionally, many ordinary business processes, such as reordering supplies have been made easier with the Web. In fact, with the government now requiring businesses to make certain types of filings online now... having access to the Internet and Web is no longer just an advantage, it is essential. Yet, connecting a private network to the Internet can expose critical or confidential data to malicious attack from anywhere in the world. Businesses that connect their computers to the Internet must be aware of these dangers, their implications and how to protect their data and their critical systems. Our experts can assist you with all aspects of developing effective security measures.
Security Starts With Your Choices of Software
Certain software manufacturers products have historically proven vulnerable to attack, even when used in a manner consistent with company policy and the best judgment. There are often times much safer alternatives to the software that comes preloaded on computers purchased directly from manufacturers or retail outlets. In addition to being safer and performing better many of these alternatives are either freely available or entirely open-source.
Anti-virus software is only a part of the equation in protecting your computer network. Firewall's can protect both individual computers and corporate networks from hostile intrusion from the Internet, but must be understood to be used correctly.
Any time a private network, or even a single PC is connected to the public Internet it becomes critical that properly configured firewall protection is in place.